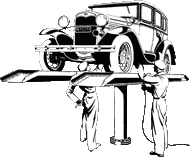 1931 Model AA
Ford Garage
Standrive Delivery
Pictured below are Ford archive photographs of the 1931 Model AA Standrive Delivery, commonly referred to as a "milk truck".
This unique vehicle was identified as Ford body type 315-A, and was produced in very low numbers in late 1931 and into 1932. It had a very low survival rate as well, with less than a dozen or so remaining.
The Standrive was introduced by Ford in August 1931 using a special shortened Model AA chassis of 112" wheel base. The frame had a special drop center section in order that the driver could stand while driving. The main advantage to this arrangement was quick entry and exit for continuous stop and go driving and delivery.
The Standrive Delivery body itself had a wood-intensive construction, with sheet metal skins overlaid. The body was produced for Ford by Baker Raulang.
The Standrive had a number of unique features in addition to its short wheelbase and drop frame. The steering wheel was a deep dish four spoke design to place the rim farther rearward, and the hand throttle lever on the steering column was an extended length design.
The windshield was a unique large size, split with an upper and lower glass.
Additionally, the clutch and brake pedals were operated in a vertical direction by unique levers and linkage. There was also a swing-away seat for the driver to sit on or lean against.
The Ford advertising for the Standrive Delivery was based on the factory photo as well.
Shown above is a rather unusual 157" wheelbase Standrive chassis. This photo provides a good view of the frame conversion, as well as the special swing-away seating and the special dished steering wheel.
This chassis was not a standard Ford offering with its own model designator. More likely it was built-to-order as a chassis only, and supplied to an outside customer or body builder. This photo was taken February 18, 1932 in Los Angeles, California.
---
More related information on Ford Garage:
For more Model A

&

B related information, use the Site Search box at the top or bottom of this page.
Model A

&

AA US Body Style Numbers

&

Body Builders Chart
November 2015